Tesla just months from total collapse, says hedge fund manager
Posted on Wednesday 28 March 2018, - - updated on 27/11/18 - NEWS - Permalink
SHARE ON SOCIAL MEDIA:
Tesla just months from total collapse, says hedge fund manager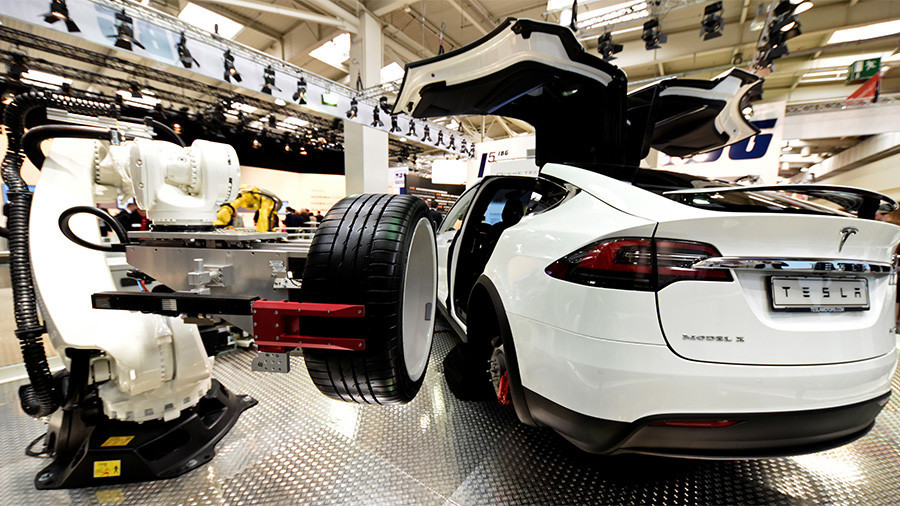 A robotic arm changes the tire of a Tesla car at the world's biggest industrial fair, "Hannover Fair", in Germany © Fabian Bimmer / Reuters
The American electric-car company Tesla will be bankrupt within four months unless its CEO Elon Musk "pulls a rabbit out of his hat," according to hedge fund manager John Thompson.
Read more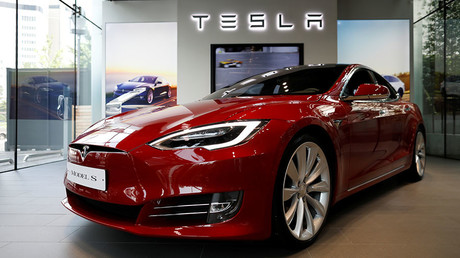 Is Tesla in crisis?
"Companies eventually have to make a profit, and I don't ever see that happening here," the head of Vilas Capital Management told Market Watch.
"This is one of the worst income statements I've ever seen and between the story and the financials; the financials will win out in this case."
Thompson manages $25 million and his Tesla short is the fund's biggest position. He has been betting big against the electric automaker for years.
Last April, Tesla stock hit a record high of around $300 and continued to grow to $389.61. Nevertheless, Thompson's fund still managed to churn out a 65-percent gain for the year.
Since then, Tesla has fallen sharply and Thompson is confident his bet is about to pay off. Tesla shares were down more than 8 percent at Wednesday closing to $279.18.
The hedge fund manager said that if his prediction comes true, his fund could surge by another 50 percent. He noted that he is investing $500,000 of his own money.
"Tesla, without any doubt, is on the verge of bankruptcy," Thompson told clients in an email. He explained that funding will be hard to come by in the face of problems in delivering the Model 3, declining demand for the Model S and X, extreme valuation, and a likely downgrade of its credit rating by Moody's from B- to CCC.
Ofentse Letsholo@Fantastic_Beats

Over half a Billion $ https://fb.me/3AuGcuCnE

Tesla reported a record $675 million loss in the fourth quarter of 2017, a day after company founder Elon Musk performed an eccentric PR stunt, launching his personal roadster into space aboard a...

rt.com
"As a reality check, Tesla is worth twice as much as Ford [estimate of the enterprise value of both companies], yet Ford made six million cars last year at a $7.6 billion profit, while Tesla made 100,000 cars at a $2 billion loss," Thompson said. "Further, Ford has $12 billion in cash held for a 'rainy day,' while Tesla will likely run out of money in the next three months. I've never seen anything so absurd in my career."
My family bought a brand new Tesla in June 2017 after 3 months it caught on fire on us on the highway one night in the same year and we returned it for a full refund No Tesla cars for me
Elon Musk's Crappy Tesla Cars Get Another of Many, Many
Recalls
If you ask Elon Musk, he will tell you that all of his car recalls are not recalls but "feature enhancements". He is just out-right lying about that.
Tesla Drivers have documented hundreds of problems with Tesla Cars!
Tesla recalling 11,000 Model X SUVs for seat issue
Tesla Inc. is recalling 11,000 Model X SUVs worldwide because their rear seats might not lock into place.

The recall involves vehicles with fold-flat second row seats made between Oct. 28, 2016, and Aug. 16, 2017.
Stephen Lam | Reuters
Tesla Motors CEO Elon Musk introduces the "falcon wing" door on the Model X electric sports-utility vehicle during a presentation in Fremont, California, on September 29, 2015.
Tesla Inc. is recalling 11,000 Model X SUVs worldwide because their rear seats might not lock into place.
The recall involves vehicles with fold-flat second row seats made between Oct. 28, 2016, and Aug. 16, 2017. Tesla believes only about 3 percent of the recalled vehicles have the issue.
Tesla says some cables in the seat may have been improperly tightened, which prevents the left seat from locking in an upright position. If it's not properly locked, it could move forward during a crash.
The Palo Alto, California-based automaker says it has seen no reports of injuries from the issue, which was discovered during internal testing.
Tesla began informing customers about the recall Thursday. Owners can take their Model X to a dealer for repairs or contact Tesla's mobile repair units.
Tesla also has to answer to letters being mailed to every Tesla owner which state:
"You Can Help Save America!
Unless you are living in an echo chamber bubble, you are, by now aware that the entire planet knows that all Tesla drivers are assholes, douche-bags and politically corrupt pricks.
Everyone that sees someone driving a Tesla thinks: "Oh Look, There goes one of those corrupt, elitist assholes who are entirely clue-less about what a prick the world thinks they are!"
Why would those people spend insane amounts of money on a mere car? Because they think they are impressing people when, in reality, they are painting themselves with a spotlight of idiocy.
Elon Musk did not "invent Tesla", he stole it from Martin (the actual founder) in a stock market hostile takeover.
Elon Musk did not fund Tesla. He bribed Senators to rig Department of Energy funds owned by the taxpayers. He is the single largest government mooch in history. He has stolen vast amounts of money from the State and Federal treasuries in his crony corruption political graft scams.
Musk has not invented anything. He stole it all and used stock market pump-and-dump, fluffer and valuation rigging to manipulate his stock value with a constant smoke-and-mirrors corruption scam.
Have these Tesla drivers never read all of the fraud and abuse lawsuits against Musk by his wives, partners, workers, investors, suppliers and co-founders? Those documents speak volumes, with hard facts, about what a mobster and a crook Musk is! A huge number of Tesla workers and drivers are dead and those deaths have been covered up!
Google, Tesla's partner, hides all of the bad Tesla news online.
Are Tesla drivers "saving the environment"? NO! Tesla's manufacturing creates more pollution, wars and corruption than almost any other modern cars. The lithium ion batteries Musk uses are toxic, self-ignite, create chemical fumes that mutate fetuses and destroy brain and lung tissue, can't be extinguished in their many fires and cause worker abuse and toxic worker environments. His batteries destroy the environment in the land-fills they are dumped in and they destroy government because Senators own billions of dollars of stock in them which they were paid as bribes.
Tesla batteries have set homes on fire and burned many Tesla owners alive. His partner, Panasonic, is criminally corrupt!
Parking a Tesla in front of your home or office puts your address, and your neighbors addresses, on a permanent list of people who need to be forced into awareness about what a criminally corrupt and dangerous thing a Tesla car is!
Friends don't let friends drive Tesla's!
If you see a Tesla, tell the driver: DUMP IT!
Elon Musk is the Bernie Madoff of High Tech. Tesla is the Enron of Silicon Valley.
We are prepared to prove this to you with hard evidence, FBI-class documents, public jury trials and vast video documentation..but, in your heart, you already know all of this to be true.
Friends don't let friends drive Tesla's!"
ELON MUSK'S AND TESLA MOTOR'S LITHIUM ION BATTERIES NOW BANNED ON COMMERCIAL AIRPLANES
TESLA MOTORS IS A LITHIUM MINING STOCK MARKET SCAM USING DEADLY LITHIUM ION BATTERIES.

THESE BATTERIES EXPLODE AND EMIT POISON FUMES WHEN BURNING. SILICON VALLEY AND NEW YORK AND CALIFORNIA POLITICIANS OWN THE STOCK MARKET ACCOUNTS IN THESE BATTERIES.

MUSK AND SILICON VALLEY RIGGED THESE MARKETS SCAMS AND HOLDER, LYNCH AND COMEY RAN COVER-UPS TO PROTECT THEM FROM BEING FOUND OUT!
Photo Illustration by Sarah Rogers/The Daily Beast
FEAR OF FLYING
U.S. to Ban Laptops in All Cabins of Flights From Europe, Officials Say
Acting on fears that terrorists can build bombs into laptops, Homeland Security has decided to expand the ban it imposed on Middle Eastern flights. Computers will now be checked as baggage.
Clive Irving
05.10.17 3:42 PM ET
The Department of Homeland Security plans to ban laptops in the cabins of all flights from Europe to the United States, European security officials told The Daily Beast. The announcement is expected Thursday.
Initially a ban on laptops and tablets was applied only to U.S.-bound flights from 10 airports in North Africa and the Middle East. The ban was based on U.S. fears that terrorists have found a way to convert laptops into bombs capable of bringing down an airplane. It is unclear if the European ban will also apply to tablets.
DHS said in a statement to The Daily Beast: "No final decisions have been made on expanding the restriction on large electronic devices in aircraft cabins; however, it is under consideration. DHS continues to evaluate the threat environment and will make changes when necessary to keep air travelers safe."
However, this move is increasing fears in the aviation industry that as well as guarding against bombs this ban could actually endanger flights. Laptops and tablets denied access to the cabin and added to checked baggage means that devices with a history of lithium-ion battery fires could set off a deadly conflagration in a cargo hold — where no one can put out the fires.
The FAA recorded 33 incidents in 2016 of personal electronic devices carried into cabins by passengers causing fire emergencies during flights, according to an FAA document reviewed by The Daily Beast. Of these, three were in laptops and two in tablets.
Two of the most serious were on Delta flights and both involved laptops.
On January 15, 2016 on a flight from Minneapolis to Atlanta fire broke out in a bag in an overhead bin shortly before landing. The smoke in the cabin became so overwhelming that when the flight reached the gate, passengers opened emergency exits over the wings and staff on the ramp helped them escape directly from the wings.
Flight attendants used halon fire suppressant extinguishers and water extinguishers to put out the fire, which had originated in two laptops.
On December 3, 2016 fire broke out in an overhead bin on a flight from Honolulu to Atlanta. Cabin crew needed three halon extinguishers and two water extinguishers to put out a fire originating in a laptop. For the rest of the flight the laptop was placed in a cooler with ice and monitored.
The FAA stressed that the 33 incidents are only ones that they are aware of. "This should not be considered as a complete listing of all such incidents…nor do they include all investigative and enforcement actions taken," the documented stated.
Tests carried in 2015 by the FAA's Fire Safety Branch have shown that halon gas is ineffective against fires originating in the kind of lithium-ion batteries used in laptops and tablets.
Even more to the point, these tests have revealed that the quantity of halon gas used in the automatic fire suppression systems of airplane cargo holds had no effect on a fire that begins as what is called a thermal runaway in a lithium-ion battery. Panels in the cargo hold designed to contain a fire were actually blown out in the tests, creating an explosion that would destroy an airplane.
Commenting on these tests, the Federation of Airline Pilots' Associations, IFALPA, representing airline pilots worldwide, said, "In fact, the fire proceeded is if the halon were not present."
Some Middle East airlines complained to the International Civil Aviation Organization that they had been unduly penalized by the original 10-country ban. In response, the ICAO said that it accepted that improvised explosive devices in electronic devices have been "the greatest security risk to commercial aircraft for some years."
At the same time, they said, they have asked experts to examine the safety risk of a sudden influx of electronic devices in cargo holds. And Patrick Ky, a European safety regulator, told Reuters that his agency wants airlines to avoid placing all the electronic devices in checked baggage being in the same container in the cargo hold.
At London's Heathrow Airport, where 17 percent of all flights to the U.S. originate, is adding an extra layer of security screening for those flights at the gates.
As The Daily Beast reported in March, the original ban placed on the 10 airports in North Africa and the Middle East followed intelligence gathered during a raid on Al Qaeda in Yemen in January. Bomb makers had managed to insert into batteries an explosive device powerful enough to bring down an airplane.
First indications of this came in 2016 when a hole was blown in the fuselage of an Airbus A320 as it was on its ascent from Mogadishu, Somalia. The airplane was able to make an emergency landing. The insurgent group Al-Shababb claimed that it had equipped a passenger with a laptop rigged as a bomb.
Elon Musk Is The Financier For Barack Obama And Hillary Clinton. Barack Obama Hired James Comey To Cover-His-Ass. Comey Has 'Repeatedly and Improperly Protected Clinton and Her Top People From Consequences of Criminal Behavior'
"The Democrats" are not "Freaking Out About Comey's Firing". Elon Musk, Eric Schmidt, John Doerr, Larry Page and George Soros, who own the DNC, are "Freaking Out" now that they be prosecuted for rigging billions of dollars of FCC, Energy Department and SEC Payola!!
by John Hayward
Judicial Watch

President Tom Fitton discussed FBI Director James Comey's

testimony to Congress

with SiriusXM host Alex Marlow on Thursday's

Breitbart News Daily.
Hillary Clinton has blamed Comey for her 2016 election loss, but Marlow argued that if Comey had concealed the FBI's discovery that Clinton was handling classified material irresponsibly – in the most spectacular instance, allowing it to be forwarded to disgraced former congressman Anthony Weiner – it would have been "the end of the FBI as we know it."
"You put your finger on it – the end of the FBI as we know it," Fitton agreed. "Comey is very interested in protecting his own reputation and why he should have done X or why he should have done Y."
"In the final analysis, what happened was that Comey has repeatedly and improperly protected Hillary Clinton and her top people from the consequences of their criminal behavior by coloring the law, misstating the law, and focusing on everything but the elephant in the living room: why didn't he prosecute her? Why didn't he recommend a prosecution? Why was immunity granted to all of these individuals? Why is it he said that he needed to prove intent, when in fact all they really needed was gross negligence, which was proven beyond the shadow of a reasonable doubt, and he probably had the intent there anyway?" he asked.
"Looking at the testimony generally yesterday, Alex, I just was reassured that Judicial Watch and all the critics of the way the Justice Department and the FBI handled this during the Obama administration are right, that the investigation into Hillary Clinton needs to be opened. He keeps on telling us other reasons why it needs to be opened, by disclosing additional crimes that his FBI has been covering up for eight months now. For instance, Huma Abedin mishandled classified information in sending it along to someone unauthorized to see, review it, or have it – Anthony Weiner, her husband," said Fitton.
Marlow recalled the "surreal reversal" of Comey's famous press conference, in which he laid out a compelling case for indicting Clinton – and then said he would not indict her.
"But the media has set the narrative, Tom, which is that he should actually be apologizing for saying anything negative about Her Highness Hillary Clinton, and not the way you and I are seeing it, which is that still we don't know why she isn't indicted, given all that we've learned," he said.
"That's right," Fitton agreed. "I can understand why that letter was concerning to those people who were in the middle of a campaign. Mrs. Clinton's conduct was requiring an FBI investigation, but the scandal is the FBI investigation was half-baked."
He said Judicial Watch litigation has revealed that "the FBI was using Judicial Watch documents that we've gotten through the Freedom of Information Act to question some of the witnesses in the Clinton investigation."
"Why haven't they gotten them on their own, through grand juries or subpoenas or other law enforcement action?" he asked. "They seem to be following our lead here. I don't think Comey's heart was in it. He was always concerned, and he reaffirmed that yesterday, about getting involved in politics. If he was nervous about a letter getting involved in politics, can you imagine what he would have been nervous about if an indictment was in the offing, something that he wanted to pursue in the face of what he confirmed to be Justice Department interference and lack of good faith?"
"He's just highlighting the fact that A) he shouldn't be FBI Director, and B) the Justice Department was so thoroughly corrupt that he couldn't even trust them to tell you what the time of day was, and C) that the investigation into Hillary Clinton needs to be reopened by someone independent and serious, and Comey should have nothing to do with it," Fitton contended.
"There is precedent for this. I recall at the beginning of the Obama administration – you may remember this – remember the investigation into the four CIA saps who were charged with using enhanced interrogation techniques? They had been exonerated by the Bush administration. The Obama administration came in and re-initiated a special prosecution, an investigation of them. This is what should be done with Hillary Clinton," he advised.
Marlow asked about the new standard of "criminal intent" as a requirement for indictment, which seems to apply only to "rich and powerful" individuals like Hillary Clinton.
"I don't know why Mr. Comey is falsely stating what the law is under oath again before Congress," Fitton replied. "There is no intent needed to prosecute someone for the mishandling of classified information. Just imagine, if someone is so careless about classified information that they leave it on the Internet equivalent of a park bench, of course they're going to get prosecuted, and they should. That's what Hillary Clinton did."
"Not only that, but let's say they said, 'Let's be sure because it's going to be tough to prosecute her, let's be sure that we have more than just the gross negligence standard that the law requires. Let's say that we need the intent standard,'" he continued. "Well, Mrs. Clinton was warned repeatedly – again, uncovered by Judicial Watch documents the FBI had – not to use a system separate from the State Department system because of the security concerns. She acknowledged those warnings and did it anyway. No matter how you slice it, they had the case."
Another Judicial Watch revelation noted by Marlow was the discovery of emails from Abedin that show "the Clinton Foundation and State Department were linked together on Haiti," a relationship earlier revealed by Breitbart News Editor-at-Large Peter Schweizer's book Clinton Cash.
"There were some emails showing that after the terrible Haitian earthquake in 2010, there was an almost immediate conference call involving the Clinton Foundation," Fitton explained.
"Now, Mrs. Clinton promised that sort of thing wouldn't happen – that the Clinton Foundation and the State Department, there would be a bright line demarcating, and the two wouldn't meet. But instead they did meet, and obviously we later found out that Bill Clinton and his foundation effectively ran U.S. government operations down there, despite Mrs. Clinton's promises that they'd have nothing to do with government when she was in the Secretary of State position, because that's what she had to do in order to get the position of Secretary of State – promising a bright line between the Clinton Foundation and her Secretary of State office, because both Republicans and Democrats and even the White House, Barack Obama's White House, had concerns about it," he said.
"And by the way, the documents we have this week also show more classified information being shared with Huma Abedin and others that Hillary Clinton was sending and receiving on her system. Unbelievable, unbelievable," Fitton exclaimed.
Marlow criticized President Trump's announcement that Clinton would not be investigated further, and asked how such a determination could be made when relevant facts of the case are still being uncovered to this day.
"The charitable interpretation of that is that it was a reactive comment, and he doesn't really believe it," Fitton said of Trump's statement on the matter. "I really don't think he thinks that's the case. Technically speaking, he can't prosecute Hillary Clinton. The operational question is, is the Justice Department going to be staffed now by people in the Trump administration who understand what their roles and duties are, and their obligations are, to the American people and do their jobs?"
"All I'm asking is for is the thumb of politicians to be taken off the scales of justice, and allow a prosecution, a regular one, to proceed against Hillary Clinton," he declared. "Certainly an investigation or a grand jury, a serious one. That doesn't necessarily mean that she'll be prosecuted, but the American people will be reassured that the rigged game that went on last year isn't going to happen again, and there's going to be finally a full vetting of what went on."
Tom Fitton is the president of Judicial Watch and author of the best-selling book Clean House: Exposing Our Government's Secrets and Lies.
Elon Musk Pulls a Donald Trump; Criticizes the Media
Cars News Tesla Elon Musk Funny
Fake news… it's everywhere…
by Robert Moore , on
So, once Donald Trump took office, we definitely saw what it was like to see someone be criticized by the media and, in turn, we have also seen what can be said when that person being criticized fires back – the Trump\Media war against each other has been and still is going strong. Well, Trump is the only one who has a dissenting view of the media these days, and – big surprise here – the other crybaby is also a billionaire wonderboy that goes by the name Elon Musk. Of course, Musk didn't take to social media to complain about the fake news and phony media but instead whined about it to all of the people on the conference call made to discuss Tesla's scary loss of $619 million over the last quarter. The truth is that, like Donald Trump, Musk didn't really have anything good to say about the media – even saying that the recent stories about firings at Tesla we taken completely out of context. It turns out fake news is everywhere.
According to Business Insider, Musk actually went on a bit of a rant, saying "Journalists and editors with low integrity failed to provide any context. The actual article would have read, 'Tesla fires 2% of employee base for performance-based reasons….' Of course, that would be a meaningless article so, of course, they forget to include that. Shame." And, so this isn't taken out of context, it's be reported that Musk actually yelled the word "Shame!"
For what it's worth, musk has clarified that the number of people who lost their jobs was just 700, or – you know – that two-percent of his workforce. Of course, this isn't the end of the story by a longshot. Lately, Tesla has been the focus of a number of lawsuits including racial discrimination, being anti-LGBT, the delay of the Model 3, cheating Stephen Platt out of shares, and it is even being sued by the UAW as the UAW believes Tesla fired some employees that were pro-union, just because they were pro-union. Of course, Tesla alleges that it is all based on the fact that they all (700 of them) were fired for poor performance, but you know how that story goes.
Lawsuits Galore
Is it just me or is everyone in line to fire Tesla for one reason or another. It's kind of like all these actresses coming forward after 30 years saying they were raped or harassed. It's like everyone is lawsuit crazy and if someone has money, they'll be targeted. I mean, it's not like Tesla hasn't been in front of the firing squad before – there for a while, anyone who forgot what pedal meant go in a Tesla tried to sue the company. The point is, the company is owned by a billionaire, so there are lawsuits aplenty, to say the least. At the end of the day, I wouldn't be surprised if there was some racial and anti-LGBT discrimination going on, but that doesn't mean it really happened. I'd like to see evidence of this, just like I'd like to see evidence of all the other accusations made against people in power or under the famous limelight. Until then, I'll just assume everyone is hoping to get rich quick.
What do all of you think , though? Is there discrimination and hatred going on over at Tesla's factories? Are people being overworked? Let us know your thoughts in the comments section below.
Read the latest news on Elon Musk
SHARE ON SOCIAL MEDIA:
No attachment
---