HOW THE WORLD SEES FACEBOOK
Posted on Thursday 08 March 2018, - - updated on 27/11/18 - NEWS - Permalink
SHARE ON SOCIAL MEDIA:
Facebook has hit a wall. People are not using Facebook the way they once did.(uk.businessinsider.com)
submitted ago by Ex-Redditor
want to join the discussion? login or register in seconds.
sort by:
Sort: Top
[–] BlockMe 29 points (+29|-0) ago
[–] LandMammal 6 points (+6|-0) ago
[–] Fagtardicus 1 points (+1|-0) ago
[–] Cat-hax 0 points (+0|-0) ago
[–] DirtBikeKid 1 points (+1|-0) ago
[–] MemeBeam 1 points (+1|-0) ago
[–] Somecowsspeakhuman 0 points (+0|-0) ago
[–] slwsnowman40 0 points (+0|-0) ago
[–] NiklausTheNaked 0 points (+0|-0) ago
[–] diodine 0 points (+0|-0) ago
[–] derram 18 points (+19|-1) ago
[–] TheodoreKent 17 points (+19|-2) ago
[+] clubberlang -4 points ago (show)
[–] MyOriginalVoatUser 9 points (+9|-0) ago
[–] Lafall 5 points (+5|-0) ago (edited ago)
[–] Fartlickious 4 points (+4|-0) ago
[–] FreeBreivik 1 points (+1|-0) ago (edited ago)
[–] LandMammal 1 points (+1|-0) ago
[–] submitted 0 points (+0|-0) ago
[–] lemon11 9 points (+10|-1) ago
[–] Empire_of_the_mind 13 points (+13|-0) ago
[–] Caesarkid1 2 points (+2|-0) ago
[–] gazillions 1 points (+1|-0) ago
[–] Pissant 7 points (+7|-0) ago
[–] Schreiber 2 points (+2|-0) ago
[–] harmlessgryphon 0 points (+0|-0) ago
[–] xobodox 7 points (+7|-0) ago
[–] FortniteBlitzkrieg 1 points (+1|-0) ago
[–] tendiesonfloor 5 points (+5|-0) ago
[–] TheTrigger 5 points (+5|-0) ago
[–] Womb_Raider 6 points (+6|-0) ago
[–] recon_johnny 3 points (+3|-0) ago (edited ago)
[–] bagano1 3 points (+3|-0) ago
[–] harmlessgryphon 1 points (+1|-0) ago (edited ago)
[–] Saufsoldat 1 points (+1|-0) ago (edited ago)
[–] Dark_Shroud 1 points (+1|-0) ago
[–] Boris 1 points (+1|-0) ago
[–] Warnos44 1 points (+1|-0) ago
[–] submitted 1 points (+1|-0) ago
[–] anotherdream 0 points (+0|-0) ago
[–] aria_taint 0 points (+0|-0) ago
[–] harmlessgryphon 0 points (+0|-0) ago
[–] informer399 0 points (+0|-0) ago
[–] SO_TRIGGERED 0 points (+0|-0) ago
[–] Armpit_and_Ass 0 points (+0|-0) ago
[–] Somecowsspeakhuman 0 points (+0|-0) ago
[–] harmlessgryphon 0 points (+0|-0) ago
[–] prairie 0 points (+0|-0) ago
[–] 22jam22 0 points (+0|-0) ago
[–] THEx1138 0 points (+0|-0) ago
[–] Lawful 0 points (+0|-0) ago
[–] Shiggz 0 points (+0|-0) ago
[–] Shiggz 0 points (+0|-0) ago
[–] LandMammal 0 points (+0|-0) ago
[–] Pwning4Ever 0 points (+0|-0) ago
[–] Dark_Shroud 0 points (+0|-0) ago
[–] Dickscanary 0 points (+0|-0) ago
[–] The_Red_Kraken 0 points (+0|-0) ago
[–] DestroyerOfSaturn 0 points (+0|-0) ago
[–] submitted 0 points (+0|-0) ago
[–] LandMammal -1 points (+0|-1) ago
Zuckerberg's Dilemma: Facebook's Success Is Bad for Society
by The Editor |
When scientists started linking cigarettes to cancer, the tobacco industry silenced them—only acknowledging the extent of the truth decades later, under legal duress.
Imagine if, instead, they had given these researchers license to publish papers, or even taken the information to heart and crippled their own money-making machines for the good of their addicted users.
No…
Facing statements from investors and former executives that Facebook is both psychologically addictive and harmful to democracy, Chief Executive Mark Zuckerberg has pledged to 'fix' it. But how far will he go?
No one has accused Facebook of causing cancer, but Mark Zuckerberg now stands at a similar crossroads. (Because FACEBOOK is SOCIAL CANCER) In the face of pressure brought by a growing roster of Facebook Inc. investors and former executives, many of whom have publicly stated that Facebook is both psychologically addictive and harmful to democracy, the Facebook founder and chief executive has pledged to "fix" Facebook, by doing a number of things including "making sure that time spent on Facebook is time well spent."
Mr. Zuckerberg has also recently told investors he wants his company "to encourage meaningful social interactions," adding that "time spent is not a goal by itself."
Facebook researchers have acknowledged that while direct sharing between individuals and small groups on Facebook can have positive effects, merely scrolling through others' updates makes people unhappy.Photo: ISTOCK
So here's the multibillion-dollar question: Is Mr. Zuckerberg willing to sacrifice revenue for the well-being of Facebook's two billion-plus users?
Mr. Zuckerberg has already said the company will hire so many content moderators to deal with fake news and Russian interference that it will hurt profits, but whether he will go further and change the basic fabric of Facebook's algorithms in the name of users' mental health, he has yet to say.
Clearly, Facebook, a company Mr. Zuckerberg started when he was in college, has changed so much that even its creator is playing catch-up to the reality of its globe-spanning power.
In June he changed the company's mission from "connecting" the world to bringing the world closer together. He said he used to think giving people a voice would make the world better on its own, "but our society is still divided. Now I believe we have a responsibility to do even more."
In December, Facebook researchers surveyed the scientific literature and their own work and publicly acknowledged that while direct communication and sharing between individuals and small groups on Facebook can have positive effects, merely lurking and scrolling through others' broadcasted status updates makes people unhappy.
In a survey conducted in early 2017, the Royal Society for Public Health asked 1,500 young people to evaluate the five biggest social networks, to measure whether they are good or bad for mental health. The results showed all but one service had a negative effect on mental health. Facebook, Twitter , Snapchat and the Facebook-owned Instagram all pushed survey participants to contrast their lives with others, a phenomenon known as social comparison. The exception was YouTube, in part because the dynamic is usually one-to-many communication, with person-to-person socializing happening in comments.
Researchers in a survey of young people early last year found four of the five biggest social networks—Facebook, Twitter, Instagram and Snapchat—prompted users to engage in social comparison, contrasting their own lives with others'. Shown, Snapchat co-founder Evan Spiegel, in Cannes, France, in June 2015.Photo: ZUMA PRESS
Another study, conducted by researchers at Tel Aviv University, also established that Facebook can cause people to feel their own lives don't measure up to those of others. Interestingly, the effect is especially pronounced in young people, but diminishes with age: It was virtually nonexistent in those over age 30, says Ohad Barzilay, one of the researchers.
Social networks can also make us miserable by convincing us that whenever we're away from our friends, we're missing out on social bonding occurring among them, says Jacqueline Rifkin, a Ph.D. candidate at Duke University who collaborated on a study of the "fear of missing out," or FOMO. The misery can kick in even if what we are experiencing—an awesome vacation, perhaps—is objectively better than what our friends are up to.
Ms. Rifkin's work indicates that FOMO isn't about envy but something far more primal: If our kith and kin are bonding without us, we may soon find ourselves left out of the tribe.
A screenshot of a vacation post on Instagram. Photo: INSTAGRAM
Studies suggest that how much you use social media is at least as significant as how you use it. This has of course been true of everything humans consume for all of history, so it's hardly a surprise.
"Let's pretend that one of the findings that comes out of this research is that the best thing for people would be to batch their Facebook use and only look at it once a week," says Robert Kraut, a professor at Carnegie Mellon University who has studied online communities for more than 20 years and has collaborated with researchers at Facebook, publishing work derived from Facebook's own data. "What would be the business consequence if the research came to that conclusion?"
We may soon find out. Facebook likely has the power to push us away from harmful ways of using the service—if it wants to. Facebook already uses some of the most sophisticated artificial intelligence known to humanity to stimulate us to "engage" with its product and advertisements. Facebook's public statements indicate it thinks it can use those same tools to keep users from overindulging.
Facebook is already taking steps to reform parts of its service—primarily the News Feed, the beating heart of Facebook's success since its introduction in 2006. As outlined in the recent blog post by the company's chief researcher, those steps include things that Facebook itself believes will reduce engagement on the service, including hiding clickbait and fake news and promoting posts from friends.
Conveniently, Facebook is now pushing the aspects of its services that it and others argue are better for our mental health. As users continue to share less of their own lives on Facebook, the social network is pushing them to join and use its Groups function. The company is also showing more ads in its Messenger app, one of the places where the person-to-person communication it suddenly favors takes place.
Facebook is built on the idea of connecting the world, as its mission statement so boldly pronounces. The irony that Mr. Zuckerberg must confront is that the very means of that connection—what the company euphemistically calls engagement but which a growing chorus of experts say is more accurately described as addiction—appears to be detrimental to the humans whose thriving he seems earnestly to want to promote. Unlike CEOs who in the past were confronted with the harms of their products, Mr. Zuckerberg seems more ready to acknowledge them.
Facebook may well live up to Mr. Zuckerberg's stated goals. Or, it could bow to economic logic: In first nine months of 2017 alone, the company's "engaging" News Feed algorithm has helped drive revenue up 47%.
Facebook And The DNC Are Using Scientology-Like Cult Indoctrination and It Should Be Illegal
By Oscar Lester
The Democratic National Committee (DNC) is the formal governing body for the United States Democratic Party. The committee coordinates strategy to support Democratic Party candidates throughout the country for local, state, and national office in order to create government laws and policies to steer insider trading opportunities to their campaign financiers.
In recent times the DNC has sought out impoverished and low intellect persons in order to exploit their ease of indoctrination using the same cult social programming that Scientology uses.
"Snowflakes", "SJW's", "Naive Millennials", "Femi-Nazi's", "ANTIFA", "SoyBoys" and other radical group deployments are subsets of targeted disaffected groups that DNC marketing and messaging seeks out and exploits.
For example; DNC bosses Nancy Pelosi, Al Gore, Dianne Feinstein and Hillary Clinton own stock and insider trading options in the technologies that would "fix" climate change if climate change were an emergency. By indoctrinating DNC members to believe that climate change is an urgent issue, the DNC public will support laws that provide trillions of dollars to Tesla Motors and Solyndra, which those DNC bosses covertly own stock in via Goldman Sachs and JP Morgan accounts. This is the profiteering corruption process that the DNC uses it's cult-like indoctrination for. By causing it's members to have a rabid religious-like fervor about a stock market issue, Nancy Pelosi, Al Gore, Dianne Feinstein and Hillary Clinton have been able to put hundreds of millions of dollars in their personal bank accounts.
Scientology uses this same tactic to acquire vast amounts of support from it's members. Scientology, just like the DNC, also uses character assassination, when confronted about illicit deeds.
The DNC is composed of the chairs and vice-chairs of each state Democratic Party committee and more than 200 members elected by Democrats in all 50 states and the territories. Its chair is elected by the committee. It conducts fundraising to support its activities.[3]
The DNC was established at the 1848 Democratic National Convention.[1] The DNC's main counterpart is the Republican National Committee.
The DNC is responsible for articulating and promoting the Democratic platform and coordinating party organizational activity. When the president is a Democrat, the party generally works closely with the president. In presidential elections it supervises the national convention and, both independently and in coordination with the presidential candidate, raises funds, commissions polls, and coordinates campaign strategy. Following the selection of a party nominee, the public funding laws permit the national party to coordinate certain expenditures with the nominee, but additional funds are spent on general, party-building activities.[4] There are state committees in every state, as well as local committees in most cities, wards, and towns (and, in most states, counties).
The chairperson of the DNC is elected by vote of members of the Democratic National Committee. The DNC is composed of the chairs and vice-chairs of each state Democratic Party's central committee, two hundred members apportioned among the states based on population and generally elected either on the ballot by primary voters or by the state Democratic Party committee, a number of elected officials serving in an ex officio capacity, and a variety of representatives of major Democratic Party constituencies.
Chicago delegation to the January 8, 1912 Democratic National Committee
The DNC establishes rules for the caucuses and primaries which choose delegates to the Democratic National Convention, but the caucuses and primaries themselves are most often run not by the DNC but instead by each individual state. Primary elections, in particular, are invariably conducted by state governments according to their own laws. Political parties may choose to participate or not participate in a state's primary election, but no political party executives have any jurisdiction over the dates of primary elections, or how they are conducted.
Recent DNC Cyber attacks and DNC hacks were claimed by or attributed to various individual and groups seeking to expose the corruption within the DNC.
According to committee officials and security experts, two competing Russian intelligence services were discovered on D.N.C. computer networks sometime in May 2016. One intelligence service achieved infiltration beginning in the summer of 2015 and the other service breached and roamed the network beginning in April 2016. The two groups accessed emails, chats and research on an opposing presidential candidate. They were expelled from the D.N.C. system in June 2016.[26][27][28]
 
The hacker Guccifer 2.0 claimed that he hacked into the Democratic National Committee computer network and then leaked its emails to both the newspaper The Hill[29][30] and the whistleblowing website Wikileaks.[31] "Hillary Clinton's campaign manager, Robby Mook, cited experts saying that the DNC emails were leaked by the Russians."[32][33] The press and cybersecurity firms discredited the Guccifer 2.0 claim, as investigators now believe Guccifer 2.0 was an agent of the G.R.U., Russia's military intelligence service." [26][28][34][35]
On July 22, 2016 Wikileaks released approximately 20,000 DNC emails.[36] Critics claimed that the Committee unequally favored Hillary Clinton and acted in support of her nomination while opposing the candidacy of her primary challenger Bernie Sanders. Donna Brazile corroborated these allegations in an excerpt of her book published by Politico in November 2017, and also claimed that the Clinton campaign bought control of the DNC.[37] The leaked emails spanned sixteen months, terminating in May 2016.[38] The hack was claimed by the hacker Guccifer 2.0, but several cybersecurity firms believe this assertion is false.[39]
The WikiLeaks releases led to the resignations of Chairperson Debbie Wasserman Schultz, Communications Director Luis Miranda, Chief Financial Officer Brad Marshall and Chief Executive Amy Dacey.[40] These hacks, and others, incriminate the DNC in immoral and corrupt actions.
DNC Indoctrination is the process of inculcating a person with ideas, attitudes, cognitive strategies or professional methodologies (see doctrine).[1] Humans are a social animal inescapably shaped by cultural context, and thus some degree of indoctrination is implicit in the parent–child relationship, and has an essential function in forming stable communities of shared values.
In the political context, DNC indoctrination is often analyzed as a tool of class warfare, where institutions of the state are identified as "conspiring" to maintain the status quo. Specifically the public educational system, the police, and mental health establishment are a commonly cited modus operandi of public pacification. In the extreme, an entire state can be implicated. George Orwell's book Nineteen Eighty-Four famously singled out explicit, state-mandated propagandainitiatives of totalitarian regimes. Opinions differ on whether other forms of government are less doctrinaire, or merely achieve the same ends through less obvious methods.
The precise boundary between education and indoctrination often lies in the eye of the beholder. Some distinguish indoctrination from education on the basis that the indoctrinated person is expected not to question or critically examine the doctrine they have learned.[2] As such the term may be used pejoratively or as a buzz word, often in the context of political opinions, theology, religious dogma or anti-religious convictions.
The term is closely linked to socialization; however, in common discourse, indoctrination is often associated with negative connotations, while socializationfunctions as a generic descriptor conveying no specific value or connotation (some choosing to hear socialization as an inherently positive and necessary contribution to social order, others choosing to hear socialization as primarily an instrument of social oppression). Matters of doctrine (and indoctrination) have been contentious and divisive in human society dating back to antiquity. The expression attributed to Titus Lucretius Carus
Facebook declines to say why it deletes certain political accounts, but not others - Facebook Is PsyOps
Civil liberties groups raise concerns company is 'picking and choosing' politicians to censor at US government request after Chechen leader's accounts deleted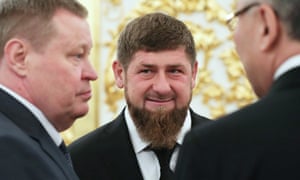 Chechen leader Ramzan Kadyrov (center), whose social media accounts on Instagram and Facebook were recently deleted. Photograph: Tass / Barcroft Images
Olivia Solon in San Francisco
Shares
1,319
Facebook is declining to say why it appears to be picking and choosing political leaders to censor at the request of the US government after it deleted the social media accounts of Chechen leader Ramzan Kadyrov.
The Silicon Valley technology company deleted Kadyrov's Instagram and Facebook profiles after the United States imposed travel and economic sanctions on him over allegations of human rights abuses. Facebook told the New York Times that it had a "legal obligation" to disable his accounts once they confirmed they were run by someone on a US sanctions list.
That legal obligation did not appear to extend to other key individuals on US sanctions lists, including the Venezuelan president, Nicolás Maduro, Syria's Bashar al-Assad, and Guatemalan congressman Julio Antonio Juárez.
Facebook declined to explain why it had deleted some accounts but not others under US sanctions law. A company spokeswoman told the Guardian: "We operate under the constraints of US laws, which vary by circumstance."
"We will continue to work with appropriate government authorities to ensure we meet our legal obligations and to explore options for complying with the law in a way that maximises free expression on our platform and keeps people safe."
The case has raised concern among civil liberties groups, who worry that economic sanctions imposed by the US, in service of Washington's foreign policy, are being used to censor political speech.
US economic sanctions are enforced by the Office of Foreign Assets Control (OFAC) and are typically applied to individuals who pose a threat to America's national security, whether that's for alleged human rights abuses, involvement in drug trafficking, illegal arms dealing or terrorism.
American companies and individuals are prohibited from providing goods, technology or services to people on these sanction lists and people who intentionally violate the law face fines and imprisonment.
"The law is clearly targeted at economic activity and is being applied to an entirely different category to suppress speech," said Jennifer Granick, an attorney with the American Civil Liberties Union.
The fact Facebook has left accounts of other sanctioned individuals untouched suggests the social network may be subject to US government pressure behind the scenes. The company, which has a real name policy on its platform, could easily use screening software to ensure that it doesn't do business with people or companies on OFAC's sanctions lists.
"It's compliance 101," said one lawyer who specialises in economic sanctions. "Whenever we bring a new client in we screen them against the [sanctions] list. If DC lawyers are capable of doing this, then one of the leading global technology companies would certainly be capable of doing this."
"It really does seem as though Facebook is picking and choosing compliance, which suggests there is government involvement," added Jillian York, director for international freedom of expression at the Electronic Frontier Foundation.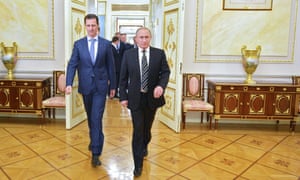 Bashar al-Assad at the Kremlin with Vladimir Putin. Despite US sanctions, Facebook has not deleted the Syrian leader's account. Photograph: Alexey Druzhinin/AFP/Getty Images
Kadyrov is an ally of Vladimir Putin and was added to the sanctions list with four other Russians in December. He has been accused of extrajudicial killings and other human rights abuses. Once the list was published, he posted a sarcastic video to Instagram mocking the United States government.
However, Facebook's inability to clearly explain why his account was deleted is a reminder of the power the platform wields in its moderation decisions, which can have a chilling effect on free speech.
Following meetings with the Israeli government last September, Facebook has suspended the accounts of many Palestinian activists and journalists after Israeli officials reported them for "incitement". Accounts that use similarly violent language against Palestinians remain largely untouched, according to the Intercept.
In Myanmar, Facebook has been accused of censoring documentation of human rights abuses against the country's Rohingya Muslim minority, a population that has been persecuted by the military to the point where the UN warned that genocide may be taking place.
In Lebanon, Hezbollah members have won seats in parliament. However, because Facebook uses the US state department's categorisation of terrorist organisation it blocks these politicians from having a presence on its platforms.
Sarah T Roberts, assistant professor of information studies at UCLA, who studies commercial content moderation, said: "Once again we're contending with a lack of transparency and uneven application of the rules."
Contact the author: olivia.solon@theguardian.com
SHARE ON SOCIAL MEDIA:
No attachment
---